1929  Monosport Model 2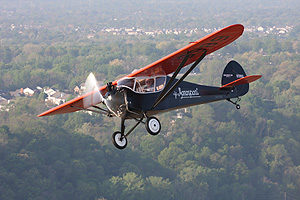 Built in 1929 by the Mono Aircraft Corp. at Moline, Ill.  The Monosport was a slightly larger and higher powered version of the Monocoupe 113.  It also had modernized landing gear and elliptical wing tips.  In all, 16 Monosports were built, 9 powered by the 110 hp Warner Scarab, and 7 Model 2 with the 100 hp Kinner K-5.  This is the fourth Monosport, the second Model 2, and unfortunately the last known Monosport remaining.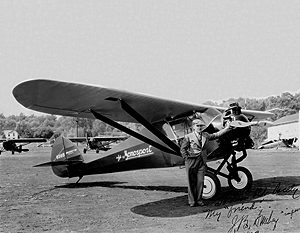 Brand new at the factory with the first owner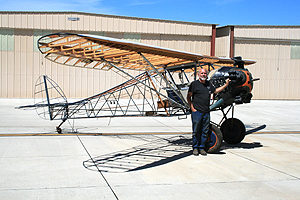 Arrival at the shop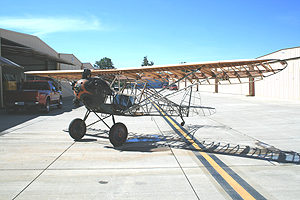 Going into the shop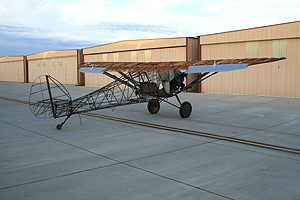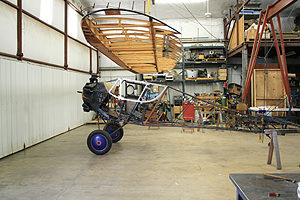 Wing is off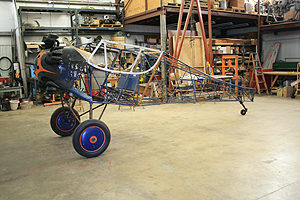 Tail is off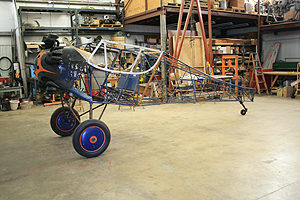 Tail is off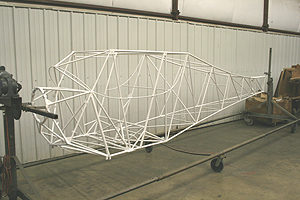 Fuselage sandblasted and painted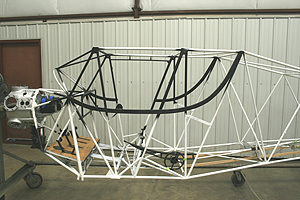 Window frames finished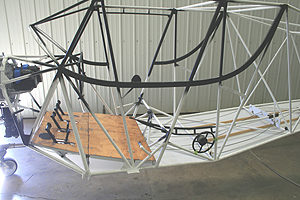 Floorboards and control system installed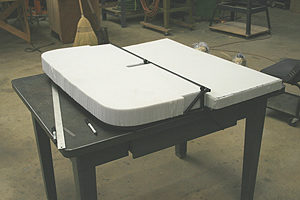 Cutting seat pads to size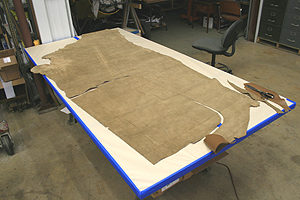 Cutting leather seat covers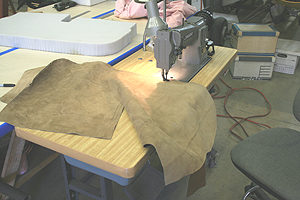 Sewing seat cover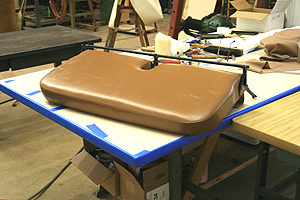 Seat finished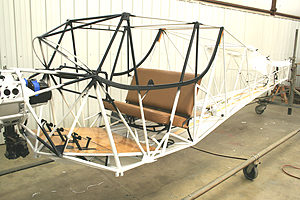 Seat installed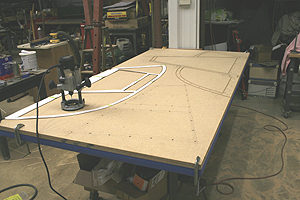 Cutting out aluminum window frames using a router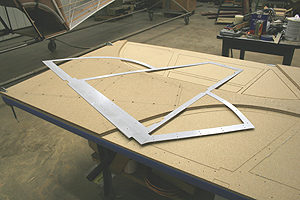 Right side window and door frame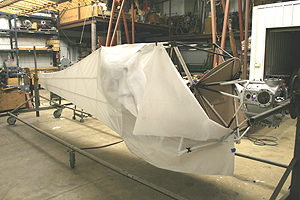 Covering fuselage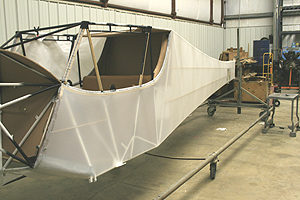 Fuselage covered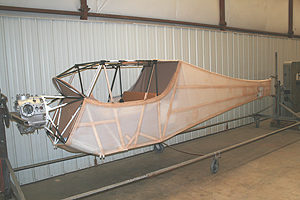 Finish tapes applied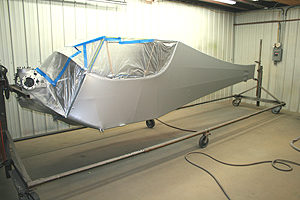 Silver applied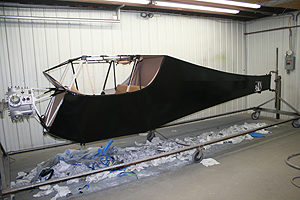 Painted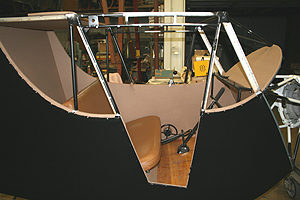 Interior nearly finished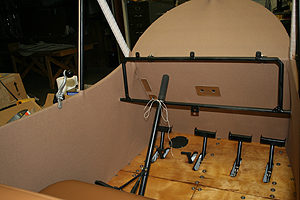 Ready for the instrument panel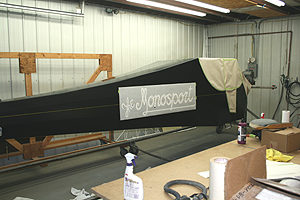 Masking to paint the logo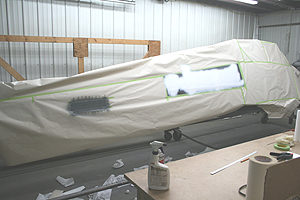 Logo painted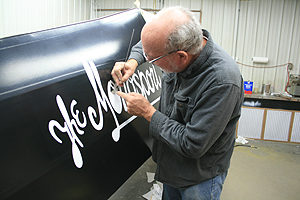 Peeling off the masking
Setting up the wing and strut rigging prior to covering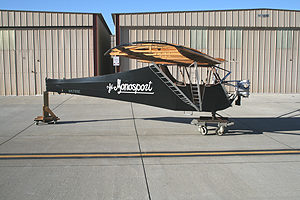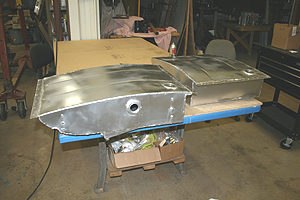 New fuel tanks finished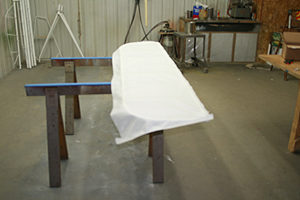 Covering tail surfaces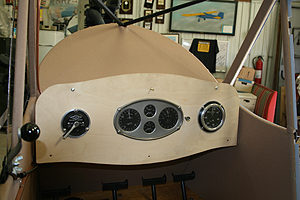 Instrument panel nearly done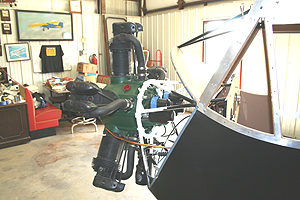 Fitting motor controls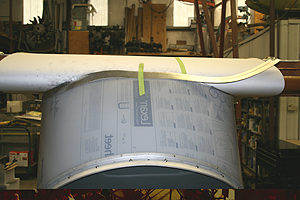 Fitting the windscreen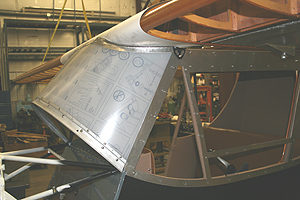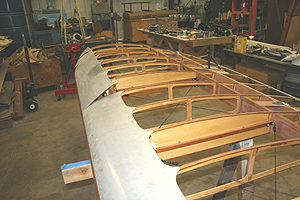 Reinstalling wing leading edges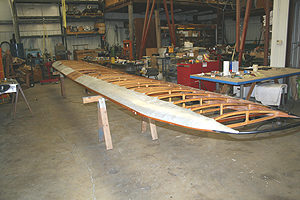 Wing is ready for cover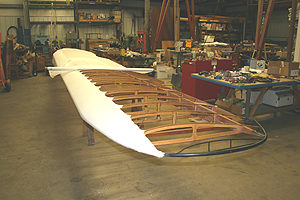 Rolling out fabric on the top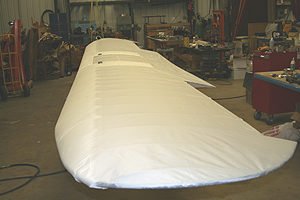 Top is on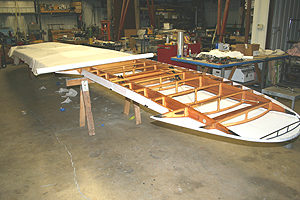 Covering the bottom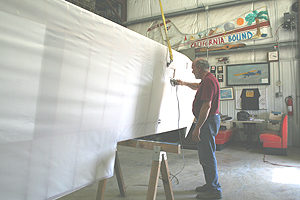 Heat tightening the bottom fabric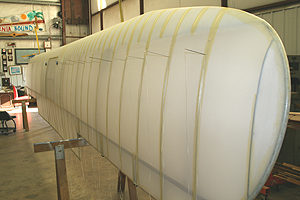 Rib lacing in progress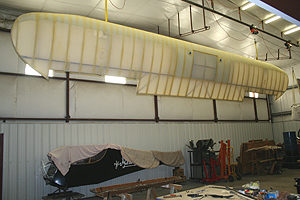 Ready for painting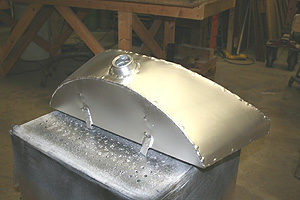 Oil tank finished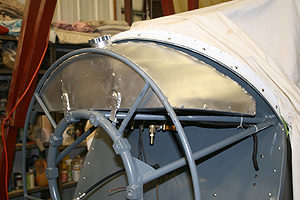 Oil tank installed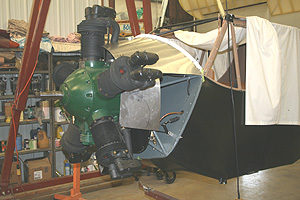 Fabricating cowling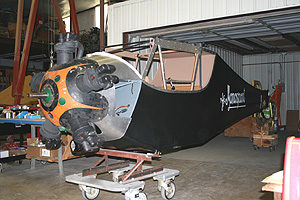 Nose is original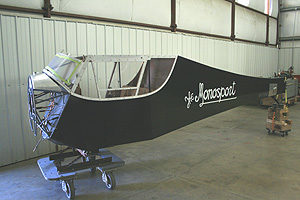 Left and front windows installed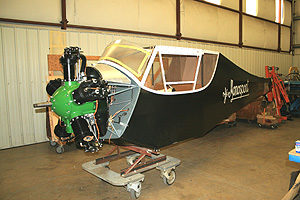 Motor installed ( original from the factory )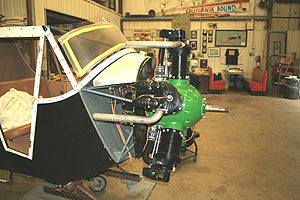 Fabricating exhaust system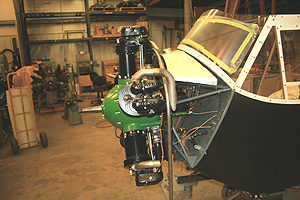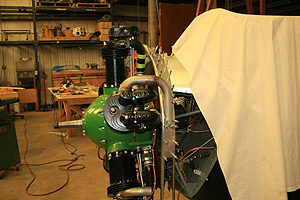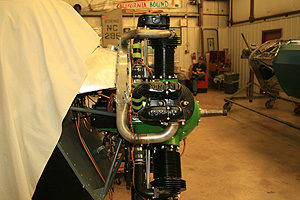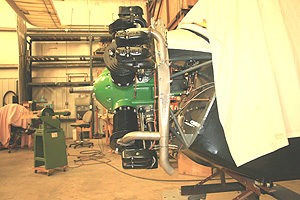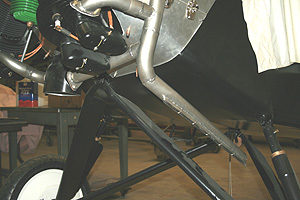 Exhaust finished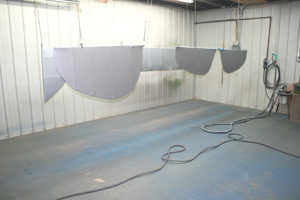 Tail surfaces ready for color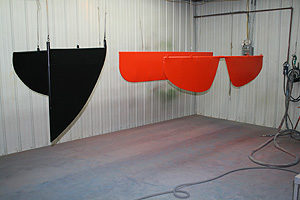 Tail surfaces finished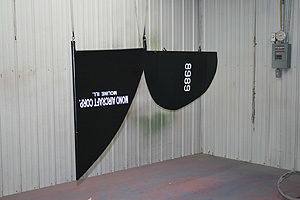 Markings on the vertical tail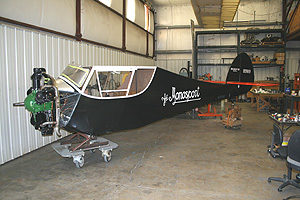 Tail mounted on the aeroplane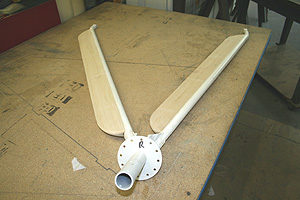 Balsa fairings installed on landing gear legs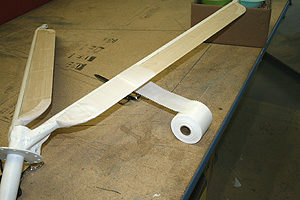 Wrapping with finish tape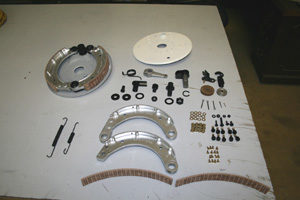 Assembling the brakes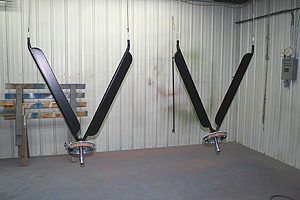 Gear legs finished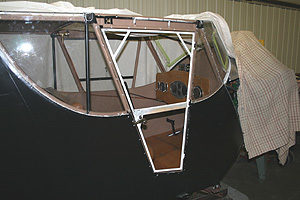 Fitting the door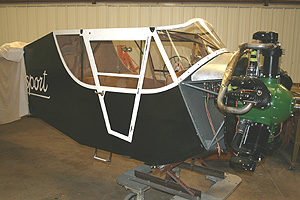 Door is finished and installed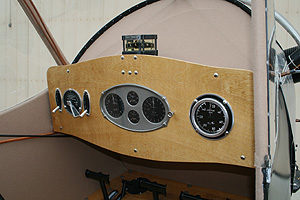 Instrument panel finished
Cowl fitted and ready for paint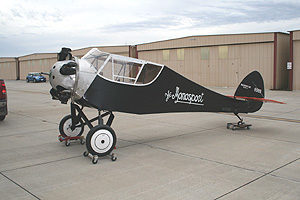 On its own feet waiting for wings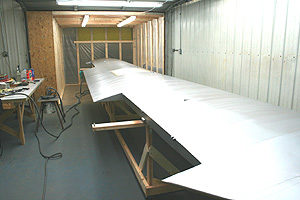 Top of wing silvered……12 feet added to paint room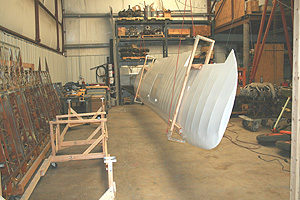 Being turned over to paint the bottom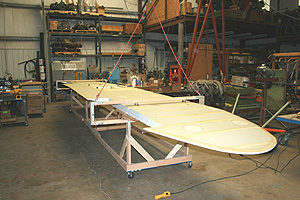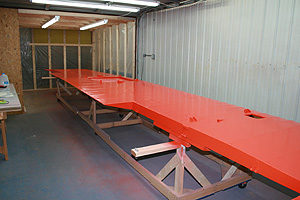 Bottom painted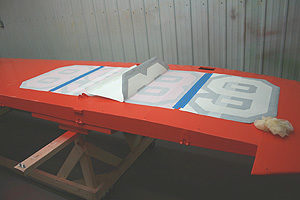 Masking the numbers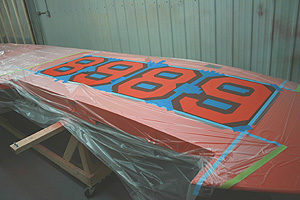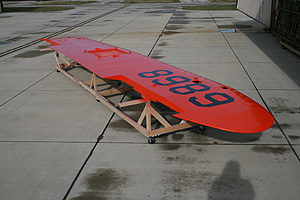 Bottom finished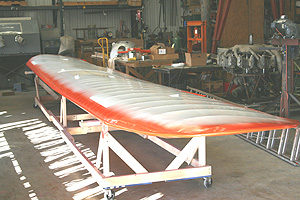 Turned over to finish the top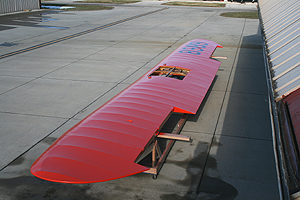 Wing finished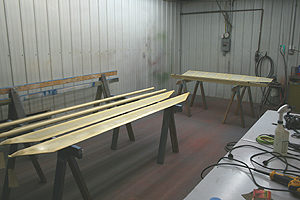 Struts and ailerons in the paint process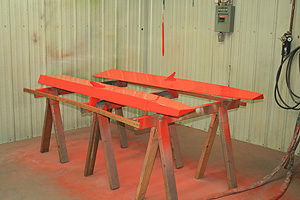 Ailerons finished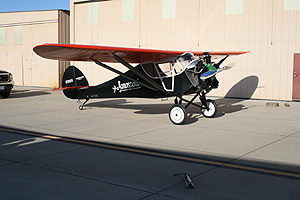 Sunlight at last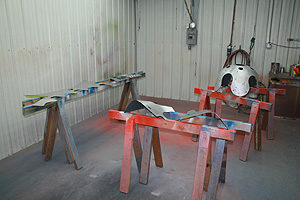 Painting cowl parts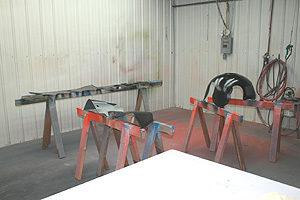 Cowl finished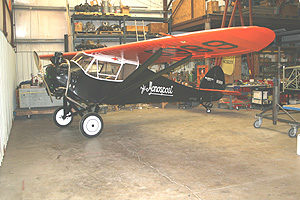 All together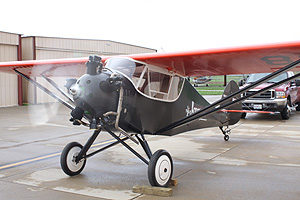 Motor running properly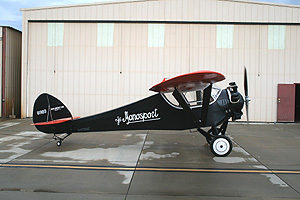 Waiting for a nice day to fly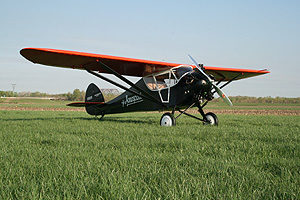 On the grass at last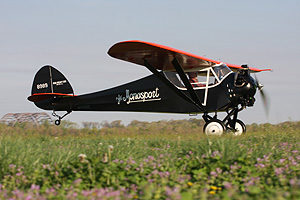 High speed run with the tail up
Another run with just a little bit of air under the wheels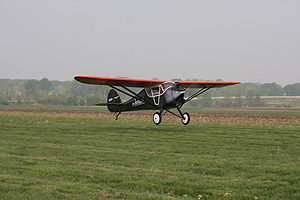 Let's go see if it will fly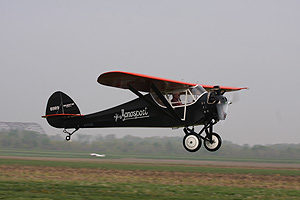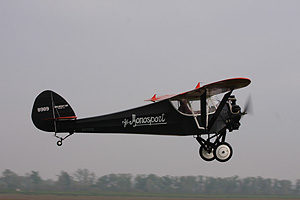 Yep it does !!!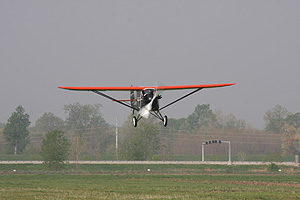 Now let's see if it will land straight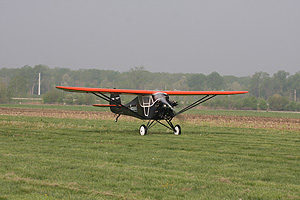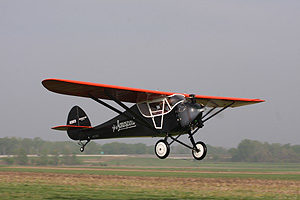 Do it again !!!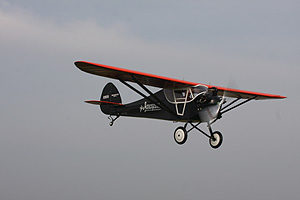 Low fly-by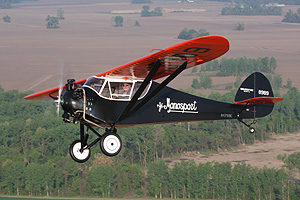 In the air up high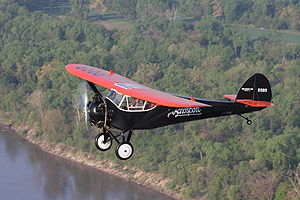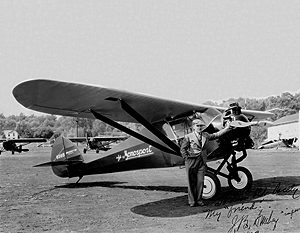 Before   ( August  1929 )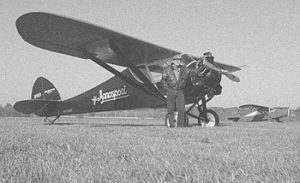 After   (April 2012 )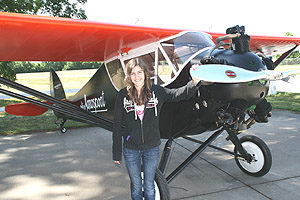 Niece  Alysa after her ride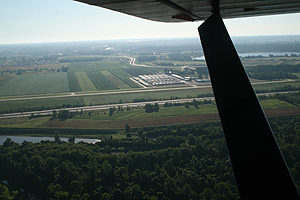 A year later…We should fly again for a while.    Where should we go?
How about OSHKOSH??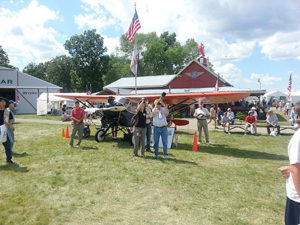 Is this a good place to park?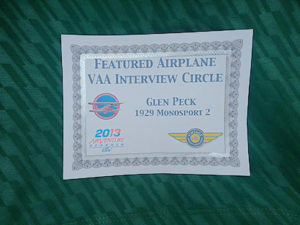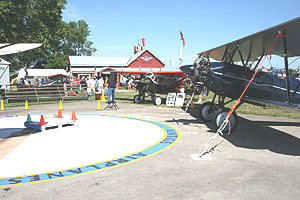 Hear interview at              http://eaavintage.org/multi-media/video-gallery/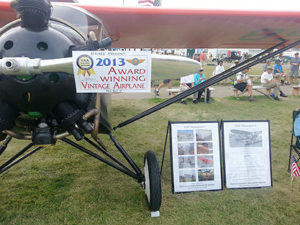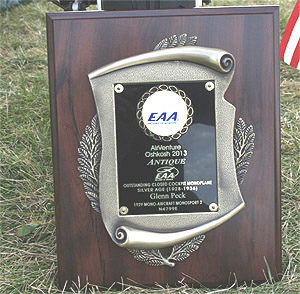 AirVenture Oshkosh 2013
Outstanding Closed Cockpit Monoplane
Silver Age (1928-1935)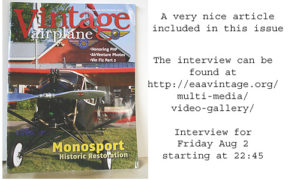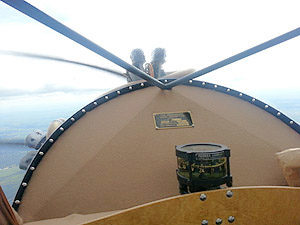 Maybe we should go on another adventure…. to the Northwest this time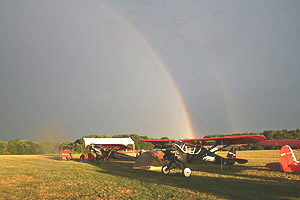 Blakesburg Antique Aeroplane Flyin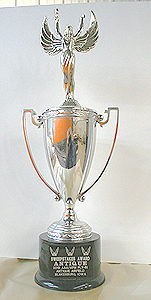 Sweepstakes Award
AAA/APM FLY-IN
Blakesburg, Iowa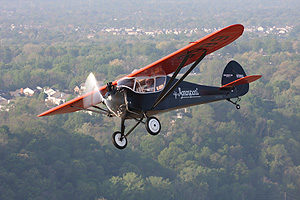 On the way home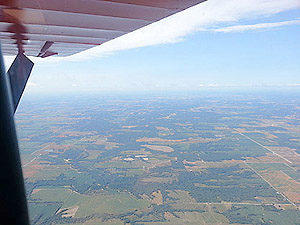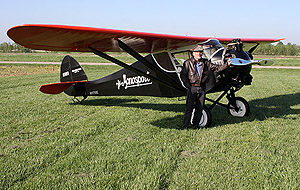 All Done